How To Make Picture On Your Website
Like A Pro?
Hey, everyone (Newbie Blogger)!
How are you today? Have you finished your homework? What the useful thing you have done?
Why not we back to open your website and do something on it?
Did you finish writing the article? Ya!
Ok, after you finished the article, you still need to add images that are relevant to the article. In the picture there is usually the title of the article, and who wrote it.
Why the article needs a picture?
Articles without pictures, such as tea without sugar. With a picture, there 1001 words say without words. Wow! Sound the picture is pretty important to be there with the article on your website.
Ya, that's right! Most people who come and see an article or something product on a website online, only 2-3 seconds, before they decide to read it or not.
So, if you already write a good article, without a picture. It's usually will be passed by. So, you need a picture to catch the eyes of your reader, then they stopping by and start reading your article. That's it!
Where you can find this picture?
Now many websites that provide free images that you can use for the articles on your website. But careful! these free pictures have their own regulation and forbidden to sell.
So, here some websites that provide you a lot of free images that allow you to use it on your website personalize;
Snappa: "21 Amazing Sites With Breathtaking Free Stock Photos (2020 Update)"
Pixabay.com; offers a large collection of free stock photos, art illustrations, and vectors. All photos are released under Creative Commons CC0.
Pexel.com; Pexels provides high quality and completely free stock photos licensed under the Creative Commons Zero (CC0) license
Unsplash.com
The collection is totally free for your commercial & personal works. 
---
The tools to design a picture.
I suggest you to use CANVA to edit your graphic design and SNAPPA to edit faster and more complete, including video editor.
1#CANVA
I usually use Canva to edit, add the text, or change the colors.
CANVA is a graphic design platform available on the web and mobile. This platform integrated with a ton of images, font, templates, and illustration.
Founded in 2012, by Melanie Perkins, Cliff Obrecht, and Cameron Adams. Canva's head office is located in Surry Hills, Australia.
Pexels GmbH, Pixabay GmbH, Zeeting Pty Limited is a subsidiary, with 800 employees.
Canva is a kindly graphic design platform that allows users to create social media graphics, posters, presentations, and other visual content.
Canva is great. It's easy to understand how it works and they have a tutorial as your guidance. If you do not yet have Canva Account,
Click "HERE" or the "PICTURE" below to make Your account.
If you never know about CANVA, it's oke… Canva provides you with Some Tutorial, and Brand Kit.
After you have a Canva account, you may get started with Canva. Just click the picture below, "Getting Started With Canva 🙂
PRICING:
---
There are some tools similar to CANVA:
2# GETSTENCIL:
It has many features to support you in designing a picture like a pro.
Getstencil has stock photos over 2.200.000 stunning royalty-free photos.
Automate: Schedule any image you create. Getstencil integrated with Buffer so you can pal your posts in advance.
2.000.000. Premium icons, they're all royalty-free dan completely safe for personal or commercial use.
Create Beautiful social media graphics on the fly. Easy-to-use graphic design tool for bloggers, business owners, and social media marketers.
The Pricing:
---
3#SNAPPA.com
Recommended! Snappa was founded in 2015, in Canada, by Christopher Gimmer (Co-Founder, CEO), Marc Chouinard (Co-Founder, CTO)
Snappa is the fastest way for marketers and entrepreneurs to create graphics. Snappa is fast, simple to use, and everything's included.
Snappa's Features has everything you can ask for from a graphic design tool.
1.A filly-featured graphic editor.
2. A stunning library of visual assets
3. Professional quality templates.
4. Magically resize your graphics.
5. Upload your own photos and graphics.
6. Save and organize your designs into folders.
7. Import your own custom fonts.
8. Connect to social media.
9. Collaborate with your team.
10. Video tutorials, FAQs, and in-house support.
Snappa is a graphic editor software without the need to download certain applications because Snappa lives in the cloud. So by having a Snappa account, one can edit graphic designs for personal, social, or marketing.
With Snappa, creating visual content is easier than similar tools with the Snappa function.
In addition, the royalty image on the Snappa platform, 100% free for personal or business, so entrepreneurs and small teams can save time and money.
This platform also supports collaboration among team members, to work together in completing a project, included 3,000,000+ of these free stock photos into our graphic design tool.
Furthermore, Snappa is integrated with many social media, so it can instantly share their images to different channels or schedule them to be published at a more appropriate time.
PRICING:
Snappa ~ Quick & Easy Graphic Design Software.
It makes it easy to create any type of online graphic, like YouTube Channel art, Templates, Infographics, Banners, Social Media Graphics.
Join Today!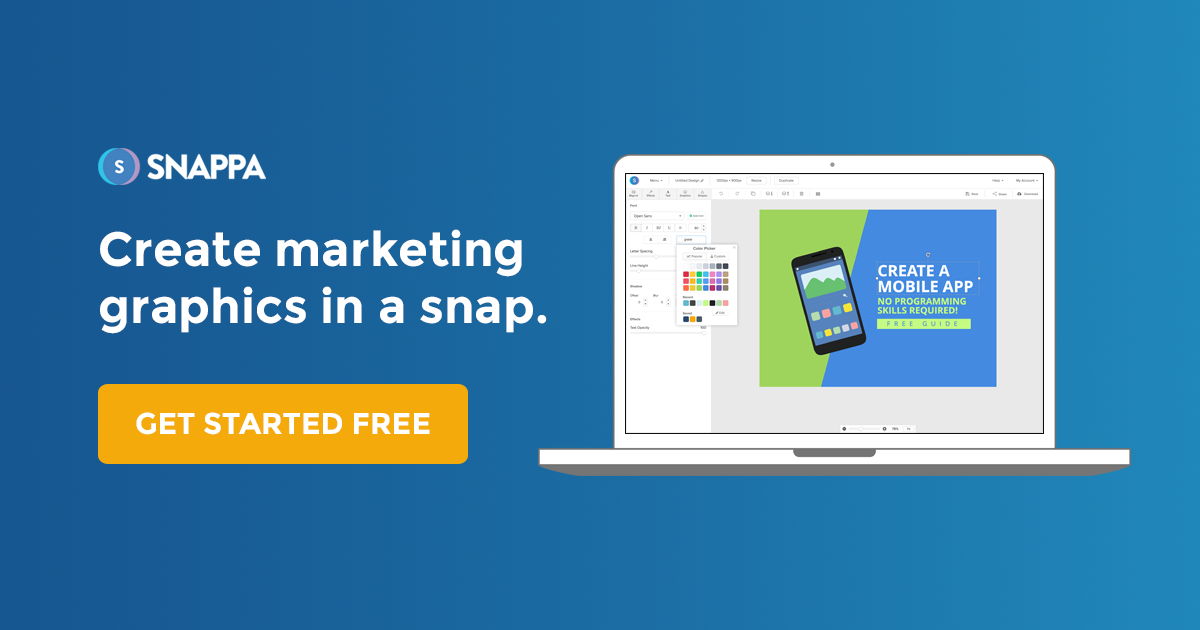 ---
4#DesignBold.com
DesignBold is great for the team's work designer and to create a team with DesignBold,  do not cost you a dime.
~ It is a simple new way to design, an innovation that works, photo-editing with ease, and design flexibility.
~ DesignBold makes it extremely easy to save designs to Dropbox and let users access and share files from wherever a user is, any time on any device
~ You can easily upload your own picture, backgrounds, or even custom fonts for unlimited creativity.
~ And share your design directly to social media or allow people to work with you via unique links to DesignBold.
~ You easily download your design in glorious high definition for large print web-use in JPEG, PNG, or PDF.
---
5#FOTOR.com
Powered by HTML5, with new features and new content. Fotor is an online photo editor, free image editor, and graphic design.
---
6#PICMONKEY.com
PicMonkey Features
Easily create images that attract eyeballs and get results.
~ Edit photos
~ Create designs
~ Touch up portraits
---
So, now you can make a picture to your website "LIKE A PRO" 😀
Great! What tools did you choose? will you tell me?
 Thank you so much, if you at this point still here be with me, I really appreciate it if you are willing to say something below, in my comment box.
Ok, See you in the next article. Bye:)
Sweet Greetings,
~Sylvia Yuchinta~